Imagine stabbing someone with this knife. 

It would instantly cauterize the would, so the person wouldn't bleed, so it's not very useful.

if you want information it is

and above, in order, we see a gryffindor, a ravenclaw, and a slytherin

why would you stab a PERSON when you can have TOAST?

There's the hufflepuff
NOOOOO!  ITS A LIGHT SABER!!!!  PLEASE!!!!  GIVE IT TO ME!!!  Star wars.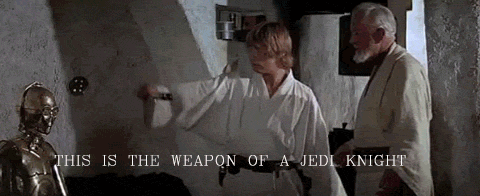 (Source: picapixels)
30 Day Movie Challenge Day 7: Favorite Comedy

Ted
Guide: How Criminal Trials Work in the United States
Track: Heat of the Moment Artist: Asia Album: Plays: 7,479
hey supernatural fandom, you know what today is….
theme 30: mhysa; by primrosetylers

[static preview] :: download from [pastebin] [freetexthost]

R U L E S

Please like/reblog if using!
Don't steal, remove the credit, claim as your own, or use as a base.

F E A T U R E S

Options for 250px, 400px, and 500px posts (make sure you've only selected one of the options; otherwise the theme will be messed up)
Options for: small cursor, infinite scroll, show caption
Also includes: tooltips, quick reblog, jump pagination, 6 links

Sidebar image is 400px wide and takes up the full length of your screen. Exact dimensions will depend on your screen size but aim for 600-800px.

If you don't want a sidebar image, you can at least change the sidebar color

Custom colors

If there are any bugs or anything you don't like at all, don't hesitate to ask! Feedback is always useful
Theme #05: Taiyou no Sympathy by kuzuriha

Under this sky, certainly people come and go.

LIVE PREVIEW // VIEW CODE // STATIC PREVIEW [01] [02]

400 / 500px size posts (please choose only one!)
500px posts for header type
Fading and grayscale photo option
Infinite scrolling option
Sidebar image will be resized to 260 x 260px, header image will be resized to 750 x 320px. 
Tooltips (cr: enabemai)
5 custom links
46 color options

This theme comes in two options: the usual sidebar (top picture) or it can come in header (bottom picture) — you can toggle the option in the Customization page. For header, it is recommended to use a picture that has a lot of blank spaces on the right side so the title will come out nicely! If you have any inquire or come across any bugs, please contact me!


Please reblog and or like if you are using this!
(Source: inaptar)
Revamping My OC witch for an indie…